Buscando información acerca de Metallica, de algún modo* llegué a encontrarme con esta foto: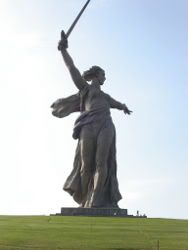 "¡La Madre Patria llama!"
Esta estatua mide 85 metros de alto y se encuentra en Volvogrado, Rusia.
Mi cerebro, acostumbrado a que el Discovery Channel me explique la magnitud de las cosas en "estadios de fútbol" en lugar de metros cuadrados, "ballenas azules" en lugar de toneladas, y "botellas de agua" en lugar de litros, buscó un punto de referencia adecuado.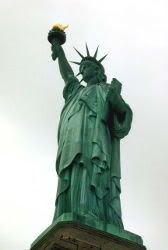 "La estatua de la Libertad"
Esta otra estatua mide 46 metros de alto sin contar la base. Se encuentra en Nueva York, EU.
¡La  Madre Patria llama
! mide más o menos 2
Estatuas de la Libertad
de alto.
Sí señor, los Rusos tienen una estátua el doble de grande que los Americanos. Muy simbólico. Y cuando digo simbólico, me refiero a "our dick is bigger than yours!"
Y ¿México tiene estatuas así de grandes? ¡Claro que sí!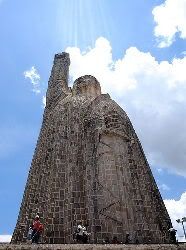 "José Maria Morelos y Pavón"
Esta estatua mide 40 metros, está en Janitzio, Michoacán y es apenas 6 metros menos alta que La estatua de la Libertad. Digo, "tres personas y media" menos alta. Por si fuera poco, es la tercera estatua más alta de toda América.
Después de esta en México se encuentran:
El Cristo Resucitado en Tlanepantla. 30 m.
El Cristo Roto en San José de Gracia. 25 m.
El Cristo Rey de los Álamos en Tijuana. 23.3 m.
El Cristo Rey en Pachuca. 23 m.
El Cristo del Sagrado Corazón en Rosarito. 23 m.
El Cristo de las Noas en Torreón. 21.8 m.
El Cristo de El Cubilete en Silao. 20.5 m.
El Cristo de Las Mesas en San Ignacio. 20 m.
Si esto por alguna razón esto no satisface tu apetito por estatuas de Cristo,
se planea un Cristo  en Tuxtla Gutierrez
que medirá 62 metros de alto.
Así que si el día de mañana las estatuas cobran vida y se ponen a pelear en un torneo a muerte (lógicamente, lo primero que se les ocurriría), México tendría un ejército de Cristos comandados por José María Morelos y Pavón.
¿Genial, no?**
Al menos hasta que les partieran la cara todas las estatuas Budistas que miden desde 60 hasta más de 100 metros de alto.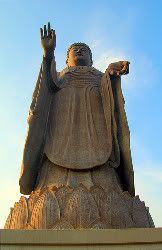 "Ushiku Daibutsu: 110 m."

Esta
es la fortaleza del budismo.
(Entrada cortesía de Wikipedia:
List of statues by height
)
*Metallica -> Load -> Reload -> Degenerate Art -> Art of the Third Reich -> Heroic Realism - Socialist Realism -> The Motherland Calls
** Sí.
---